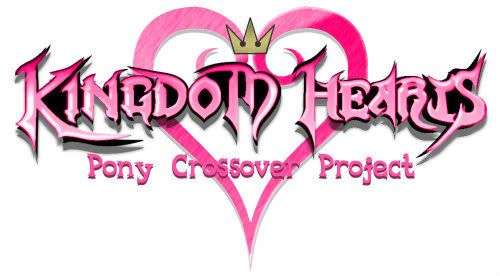 Kingdom Hearts (キングダム ハーツ Kingudamu Hātsu): a video game containing mixture of familiar Disney and Square Enix characters, as well as several new characters designed and created by Tetsuya Nomura. In addition to original locations, the Kingdom Hearts series features many worlds from Disney films. 
My Little Pony: Friendship Is Magic: an animated television series developed by Lauren Faust; takes place in the land of Equestria, populated by varieties of ponies (including variants of Pegasus and unicorn), along with numbers of other sentient and non-sentient creatures.
The Kingdom Hearts: Pony Crossover Project is an upcoming video game crossover of the Kingdom Hearts series and the Friendship Is Magic Series, following the mixture of pony worlds and other worlds.
The story takes place generations after the Mane 6; they have passed away and all that remains of them are honorary relics and the legends they passed down and preserved through years of time. The story follows the tale of a young pony named Strongheart Soul, who mysteriously attained possession of the legendary Keyblade: the blade that erases darkness, the key that unlocks and locks keys and doors. Along with her companion, Skyward Dawn, they take on a journey unveiling the secrets of other worlds – the secrets also of Equestria's past.
Game play will be 2D platforming; the player will have to develop and use skill to conquer enemies, puzzles, and numerous obstacles to  progress through the various locations of the game.
This game is currently in need of staff: anyone is welcome to help out and contribute ideas, or anything at all!
Submit to majesticyoshi@ponyslivenow.com or post in this topic on our forums!
~More details coming soon!~